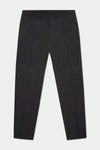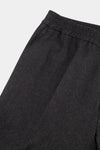 Dusk black straight trousers
All our apparel is handmade in our local factory in Amsterdam and manufactured on demand. Items will be shipped after 7 working days.
Pre orders are shipped within 4 weeks.
Tailored but comfortable, just how we like it. These handmade trousers have an elastic waistband and straight silhouette. A true tribute to Dutch textile history, crafted from heavy and firm fabrics woven in Enschede, the Netherlands and made from Dutch textile waste. Combine with our overshirt for a fancy look, with a touch of sports.
Our entire collection is ethically produced in our factory in Amsterdam and is traceable via an NFC chip embedded in the clothing.
Our male model wears a size medium and is 190cm.
Cross twill black made from:
70% recycled cotton
30% organic cotton


The recycled cotton comes from post-industrial and post-consumer waste.

Dry clean only.