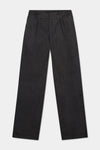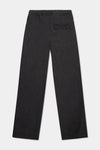 Dusk black wide leg trousers
All our apparel is handmade in our local factory in Amsterdam and manufactured on demand. Items will be shipped after 7 working days.
Pre orders are shipped within 4 weeks.
These handmade trousers are comfortable but smart, with their elastic waistband and slightly flaired fit. The fabric is heavy and firm, with a luxurious feel and quality. It is a true tribute to Dutch textile history, crafted from fabrics woven in Enschede, made from Dutch textile waste.
Our entire collection is ethically produced in our factory in Amsterdam and is traceable via an NFC chip embedded in the clothing.
Our female model wears a size medium and is 174cm.
Cross twill black made from:
70% recycled cotton
30% organic cotton

The recycled cotton comes from post-industrial and post-consumer waste.

Dry clean only